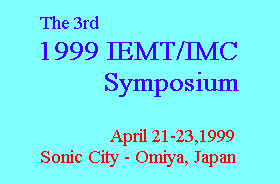 As the Organizing Committee chairman. I wish to extend a cordial invitation to the third 1999 IEMT/IMC Symposium. This international conference is jointly sponsored by CPMT (Components, Packaging, and Manufacturing Technology Society) of the IEEE Tokyo Chapter, and IMAPS (International Microelectronics and Packaging Society) JAPAN / JIEP. "Microelectronics Packaging Innovation for the New Century" is the theme for the 1999 IEMT/IMC Symposium that offers papers covering a wide spectrum of topics and exciting new developments in all areas of microelectronic technologies. The aim of the symposium is to continue to offer quality coverage of technological innovation and an updated perception of the rapidly changing global research and development in the areas of design, process, materials, quality and manufacturing for devices, components, and systems. Three invited papers will focus on current challenging technologies and present status of progressive System Integration project. More then seventy technical papers which cover the latest microelectronics technologies are arranged in fourteen sessions. An exhibition will also be held in parallel on the three days of the Symposium. The 1999 IEMT/IMC Symposium offers attendees a range of science and technical contributions to "Microelectronics Packaging Innovation for the New Century". I look forward to seeing you in Sonic City-Omiya.

Kuniaki Tanaka
General Chairperson

IEMT/IMC Symposium which is the largest international symposium in Japan in the field of microelectronics. The Symposium becomes the 3rd in this time and be held in Sonic City-Oomiya from April 21 to 23, 1999. The main theme of the symposium in this time is "Micloelectronics Packaging Innovation for the New Century". Join discussion on the latest development in microelectronics. The organizing committee is expecting many participants !!

The 74 technical papers and special lecture will be presented in l4 technical sessions within Advanced Packages, Optoelectronics, Interconnection, Materials, Desing & Sumulation, Reliability & Testing, Substrates, Technology Trends. In the afternoon of April 21, three invited speeches on Technology Trends, Advanced Conductive Adhesive Material, System Integration for the Network Society will be presented.

New technologies, materials, devices, and equipments for microelectronics will be displayed at the 13th Microelectronics Show, which is an exhibition held in parallel with the symposium also at the Sonic City Building. The presentation corner will introduce to the participants the latest high technologies of various corporations.
l0:00am.-5:00pm. Wednesday, April 21
l0:00am.-5:00pm. Thursday, April 22
l0:00am.-4:00pm. Friday, April 23
Exhibition Hall:B1 floor of Sonic City
(Admission Free)


The opening ceremony will be scheduled at the Small Hall of Sonic City. Dr.Tanaka of the general chair, l999 IEMT/IMC Symposium will provide an opening address.
9:50am. Wednesday, April 21
Small Hall, Sonic City


Excellent five technical papers presented at the l998 IEMT/IMC Symposium are awarded at the ceremony.
4:45pm. Wednesday, April 21
Small Hall, Sonic City


An welcome reception will be held at Rose Room of Palace Hotel Omiya beside Sonic City. Come and enjoy with international engineers. A ticket is included with your symposium registration, additional tickets may be ordered through the registration form.
5:20-7:30pm. Wednesday, April 21
Palace Hotel Omiya


All attendees from foreign countries will be invited to the International Party for friendship exchange.
6:15-7:45pm. Thursday, April 22
(Overseas attendance only)


Coffee and tea for refreshing will be served on the following times.
2:40-2:55pm. Thursday, April 22
2:40-3:00pm. Friday, April 23


General Chairperson
Kuniaki Tanaka (Chiba University)

Vice General Chair
Kaoru Hashimoto (FUJITSU Laboratories Ltd.)

Advisory
Sei-ichi Denda (Shinsyu University)
koji Nihei (Oki Electric Industry Co., Ltd.)
Tetsuya Osaka (Waseda University)
Takaaki Ohsaki (NTT Advance Technology Co.)

Technical Program
Yoshitaka Fukuoka * (Toshiba Corporation)
Kishio Yokouchi ** (FUJITSU Laboratories Ltd.)
Yasuhiro Ando (NTT Corporation)
Toshiyasu Takei (Oki Electric Industry Co., Ltd.)
Masahide Tsukamoto (Matsushita Electric Industrial Co., Ltd.)
Hideyuki Nishida (IBM Japan Ltd.)
Katsuhiko Hayashi (TDK Corporation)
Hirofumi Fujioka (Mitsubishi Electric Corporation)
Koji Matsui (NEC Corporation)
Keiji Yamamura (Sharp Corporation)
Itsuo Watanabe (Hitachi Chemical Co., Ltd.)
Yasuyoshi Kunimatsu (Kyocera Corporation)
Hidetaka Shigi (Hitachi, Ltd.)
Eiji Takagi (Toshiba Corporation)

Finance
Kaoru Hashimoto (FUJITSU Laboratories Ltd.)

Publicity
Yoshiro Takahashi (Oki Electric Industry Co., Ltd.)

Publication
Masashi Ohshima (Kogyo Chosakai Publishing Co., Ltd.)

Operation
Kaoru Hashimoto * (FUJITSU Laboratories Ltd.)
Miki Mori ** (Toshiba Corporation)
Masataka Itoh (NEC Corporation)
Masayoshi Kikuchi (Citizen Watch Co., Ltd.)
Kazuhisa Tsunoi (FUJITSU Limited)
Toru Nishikawa (Hitachi, Ltd.)

* Chairperson
** Vice Chair


For more information on 1999 IEMT/IMC Symposium contact to :
Secretariat of 1999 IEMT/IMC Symposium
IMAPS Japan / JIEP
3-12-2 Nishiogi-kita, Suginami-ku, Tokyo 167-0042, Japan
Phone : +81-3-5310-2010, Facsimile : +81-3-5310-2011
E-mail : imaps@ruby.famille.ne.jp

1999 IEMT/IMC Symposium 事務局
社団法人エレクトロニクス実装学会 内
167-0042 東京都杉並区西荻北3-12-2
電話 : 03-5310-2010, FAX : 03-5310-2011