Registration Information
Deadline for Early-bird Registration: March 17, 2019 extended to March 22, 2019
Deadline for Pre-registration: April 15, 2019
After April 16, 2019, On-site Registration will be available at the registration desk during the Meeting.
*All deadline dates are in Japan Standard Time.
REGISTRATION FEES
- All payments must be made in Japanese yen.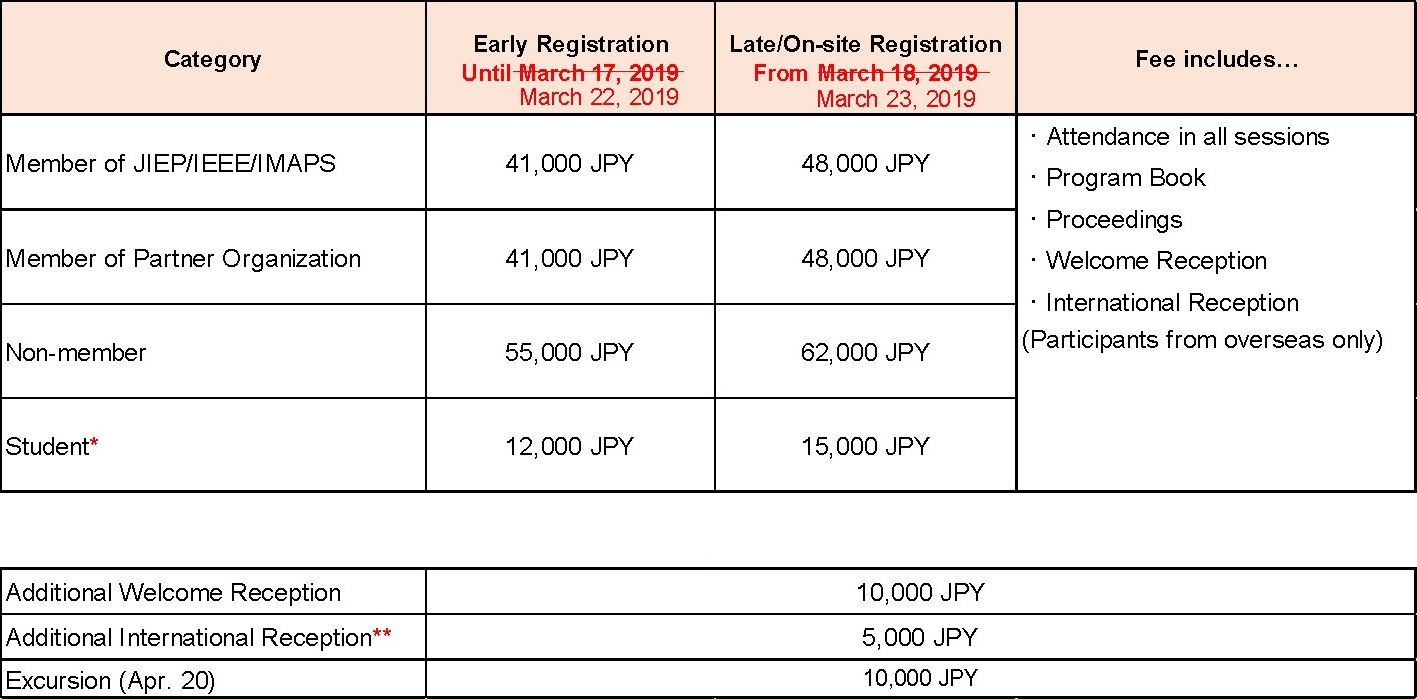 * Student rate is applicable only to those who have full-time student status at the time of online registration. Please be advised that student rate will not be applied for students who have full time job.
** International Reception is applicable only for overseas participants
*** Partner Organizations

PAYMENT
Payment must be made in Japanese yen.
- Credit Card (VISA, MasterCard, Diners Club, AMEX or JCB)
- All prices are tax inclusive.
NOTIFICATION E-MAIL
Reply E-mail:
After you complete on-line registration, a reply e-mail will be sent to your registered e-mail address automatically.
If you do not receive it within 24 hours, please contact the Conference Secretariat.
Invoice
A PDF invoice can be downloaded from user account.

Receipt
A receipt will be provided at the registration desk.
CANCELLATION POLICY
Conference registration fees are non-refundable.
For any inquiries about registration, please contact:
Registration Office of ICEP 2019
c/o JTB Communication Design�CInc.
Celestine Shiba Mitsui Bldg. 3-23-1
Shiba�CMinato-ku�CTokyo 105-8335, Japan
TEL�F+81-3-5657-0789
FAX�F+81-3-3452-8552
E-MAIL�Ficep2019-reg@jtbcom.co.jp
���菤����@�Ɋ�Â��\�� (For Japanese)