Excursion
Itinerary
7:40 Departure from Kuwana station
8:20 Departure from Hotel Hanamizuki
10:10 - 10:50 Visit to Meotoiwa
11:10 - 13:10 Visit to Ise Jingu, Oharai-machi and Okage-yokocho and Lunch
13:30 - 14:20 Visit to Yokoyama Observatory
14:50 - 16:15 Visit to Ama Hut Hachiman
16:45 Arrival at Toba Station
19:00 Arrival at Kuwana Station
19:30 Arrival at Hotel Hanamizuki
Notice: Please bring your baggage to the excursion if you plan to have a train from Toba station or Kuwana station on the evening of Apr 21.
Lunch is included in the tour charge.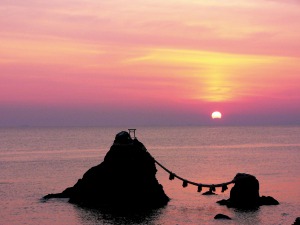 Meotoiwa
Meotoiwa (wedded-rocks) tied with a thick, sacred, straw rope symbolize marriage. The sun appears to rise from between the two rocks around the summer solstice.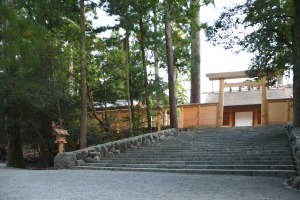 Ise jingu
With its 2,000 year long history, Ise Jingu serves as the spiritual hometown of the Japanese people. Ise Jingu is comprised of 125 shrines – including "Naiku", the main Inner shrines and "Geku", the Outer shrines.
Japanese Prime Minister said at a G7 Summit press conference, "Whenever I encounter the dignified atmosphere in the solemn setting of the Ise Jingu, I always have a very sobering feeling. The Ise Jingu has a long history of over 2,000 years. At this sacred site, people have offered prayers for bountiful harvests, for peace, and for happiness."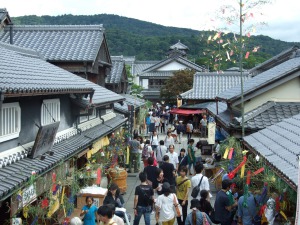 Oharai-machi and Okage-yokocho
Following a visit to Ise Jingu, a stroll through Oharai-machi and Okage-yokocho, a thriving town just opposite Naiku, is strongly recommended. A beautiful cobblestone street of about 800m stretches through the town from the Ujibashi Bridge along the Isuzugawa River, and it is lined with many souvenir shops, restaurants and more. Oharai-machi and Okage-yokocho is truly a wonderful place for a leisurely walk after a visit to the shrine. Okage-yokocho is situated in the center of Oharai-machi, and within an area measuring approximately 4,000 tsubos (13,223m2) one can find many of the representative architectural works of Iseji Road dating from the Edo Period to the Meiji Era, which have been relocated or recreated here. The charm and appeal of this rural region is condensed into this compact area, giving visitors the opportunity to experience the traditional flavor, specialties, history, customs and humanity of the region in a single visit.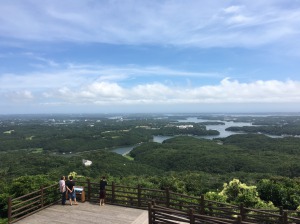 Yokoyama Observatory
You can enjoy superb view such as the beatiful scenery of Ago Bay from the Yokoyama Observatory that was given one star by the Michelin Green Guide Japan.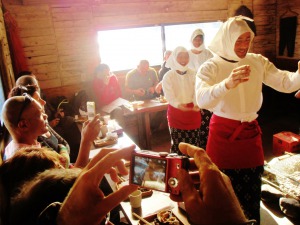 Ama Hut Hachiman
You can chat merrily with the Ama (traditional women divers) about their lifestyle while enjoying a tasty seafood barbecue including turban shells, big short-neck clams, Japanese spiny lobsters, and abalones. This unique venue is available only in the Ise Shima area in Mie.